June 2021 - Summer Solstice, Seedy Salad and Sweet Little Stoats
This Month's Class Notes... Unroll Your Mat And Do Some Sun Salutations To Celebrate The Summer Solstice and International Yoga Day
It was a gloomy and soggy sunrise for the summer solstice this morning and sadly there will be no lovely photos of the sun rising over Stonehenge or Glastonbury Tor this year. The celebration of the longest day of the year goes back a long way - mankind has always honoured the sun as a giver of life itself in one way or another throughout the ages. The ancient yogis were no different, facing east for their morning practice to greet the sun with prostrations and offerings. There's much discussion amongst scholars about when Sun Salutations were first introduced - some say it was in Vedic times and others say it is a more recent addition, being brought to the West at the beginning of the twentieth century but either way, it is now a much-valued part of the practice of yoga.
There are many variations too so, although the sequence broadly follows the same pattern of repeated forward bends and backbends, modifications can be made to suit all abilities. Sun Salutations encourage us to breathe well, move our joints, strengthen and stretch the body and, of course, they require us to concentrate and focus the mind. If you do a Sun Salutation at a slow speed it provides a good, gentle wake-up to get you moving at the beginning of the day and, if you increase the speed and the amount of rounds you do, Sun Salutations offer cardio benefits and improve the circulation as well as strengthening and stretching the body.
Today is also International Yoga Day (you can find out about this annual event HERE, so there's even more reason to unroll your mat and spend some time moving, breathing and sitting in quiet contemplation. Enjoy your practice...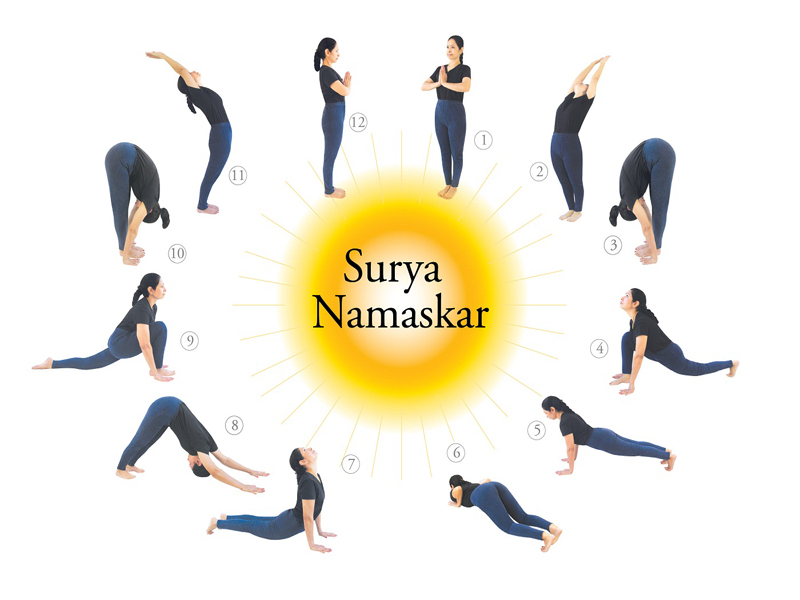 This Month's Recipe... Seedy Carrot Salad
This recipe is so very easy and makes a fresh, zingy, colourful and substantial addition to a summer salad bowl. It comes from gardening writer Sarah Raven who, as well tempting you with lots of lovely plants, seeds and other beautiful goodies on her online catalogue also has lots of great recipes https://www.sarahraven.com/articles/tag/recipes
Serves 6:
You will need:
3 large carrots
3 tablespoons extra virgin olive oil
Juice and grated zest of 1 lime
Salt and black pepper
3 tablespoons of seeds e.g. poppy, pumpkin, sunflower, sesame
And here's how to make it:
Peel the carrots and grate on a medium-grade grater.
Mix the oil with the lime zest and juice, and salt and pepper, in the base of a large salad bowl.
Toast the seeds in a frying pan (either dry fry or add a tiny bit of oil) until starting to brown and pop.
Add the grated carrot to the bow, followed by the hot toasted seeds straight from the pan.
Stir everything together and leave for a couple of hours. This salad keeps well for the next day.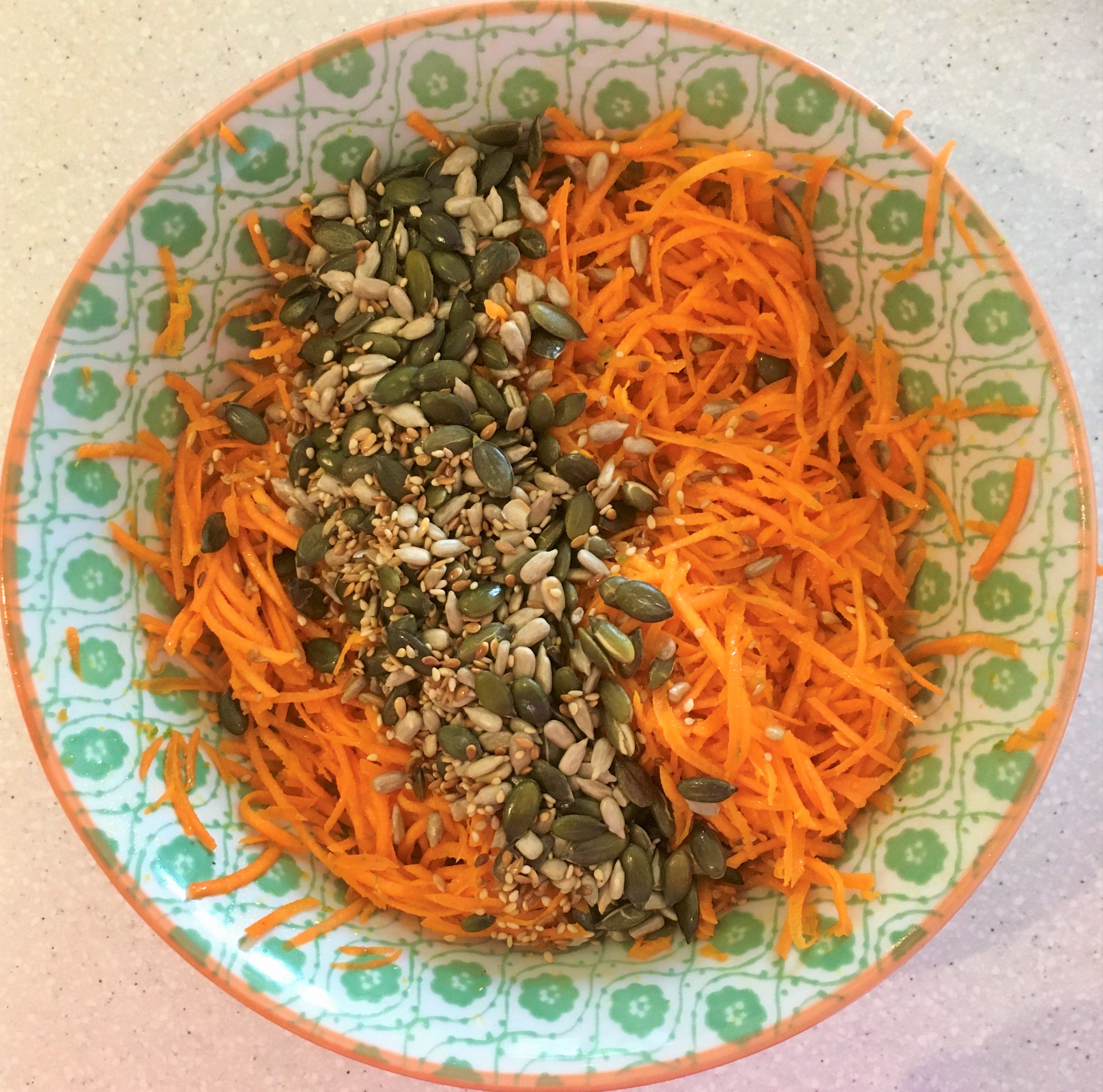 This Month's Mother Nature's Magic... it's all about the flowers...
Although today is the Summer Solstice, the longest day of the year and the start of summer, if you follow the astronomical calendar, confusingly, it's not Midsummer's Day until Thursday 24th June! (Here's a good explanation of all these different celestial happenings from BBC Bitesize if you need it.) At this point of the year I feel that I should be out in the garden surrounded by flowers and lovely lush greenery enjoying the feeling of the sun on my skin and the grass between my toes. It is, however, all a bit of a damp squib today and I'm not feeling inclined to get another drenching as I've already been out there trying to prop up some of my collapsed plants and wishing I'd put more supports in around them. However, we can still immerse ourselves in flowers as so much is being shared online right now. You can still view a huge array of wonderful videos from the Virtual Chelsea Flower Show here https://www.rhs.org.uk/shows-events/virtual-chelsea and, as it was British Flowers Week last week, it's worth taking a look at their website too - there are lots of videos to invite and inspire you to have a go at arranging some seasonal flowers that are grown here in the UK rather than being shipped or flown in from abroad https://www.britishflowersweek.com/virtual-schedule-1.
Things To Do and Places To Visit...
If you'd like to take a chance on the weather and get out and about to enjoy the flowers in real life then, from the 1st to the 4th July it's the Festival of the Garden at Charleston in West Sussex. With talks, tours and demonstrations this looks like the perfect way to enjoy the floral bounty of the season. You can click here to take a look: https://www.charleston.org.uk/festival/festival-of-the-garden/ .
This Sunday 27th June is Bookham Gardens Day - if you're local to Bookham it's a lovely chance to have a mosy and a nosy around people's gardens, picking up ideas and inspiration along the way. Here's the website address for more details: https://www.bookhamcommunityassociation.org/opengardens
If you enjoy looking around gardens then check out the National Garden Scheme list of open gardens (otherwise known as the Yellow Book) for those in your area https://ngs.org.uk/
Hampton Court Flower Show is ON! From 4th-11th July the world's largest flower show will be running (with Covid safety measures in place) so if you'd like a lovely day out you can find more details and book tickets HERE.
The flowers in my garden are also blooming well despite taking a bit of a battering from the rain. My little stall is open on Wednesday and Saturday afternoons from 1pm where you can buy a homegrown, chemical-free and plastic-free bunch of beautiful seasonal flowers. Prices vary but are generally between £2 and £5 a bunch, with all profits being donated to Spay It Forward to help fund the spaying and neutering of street dogs in Romania and Greece. If you'd like me to put a bunch aside for you or arrange to collect one outside of the stall opening times please send me a message on social media (search for @flosflowergarden) or send me an email.
Here are a few flowery photos from the past week.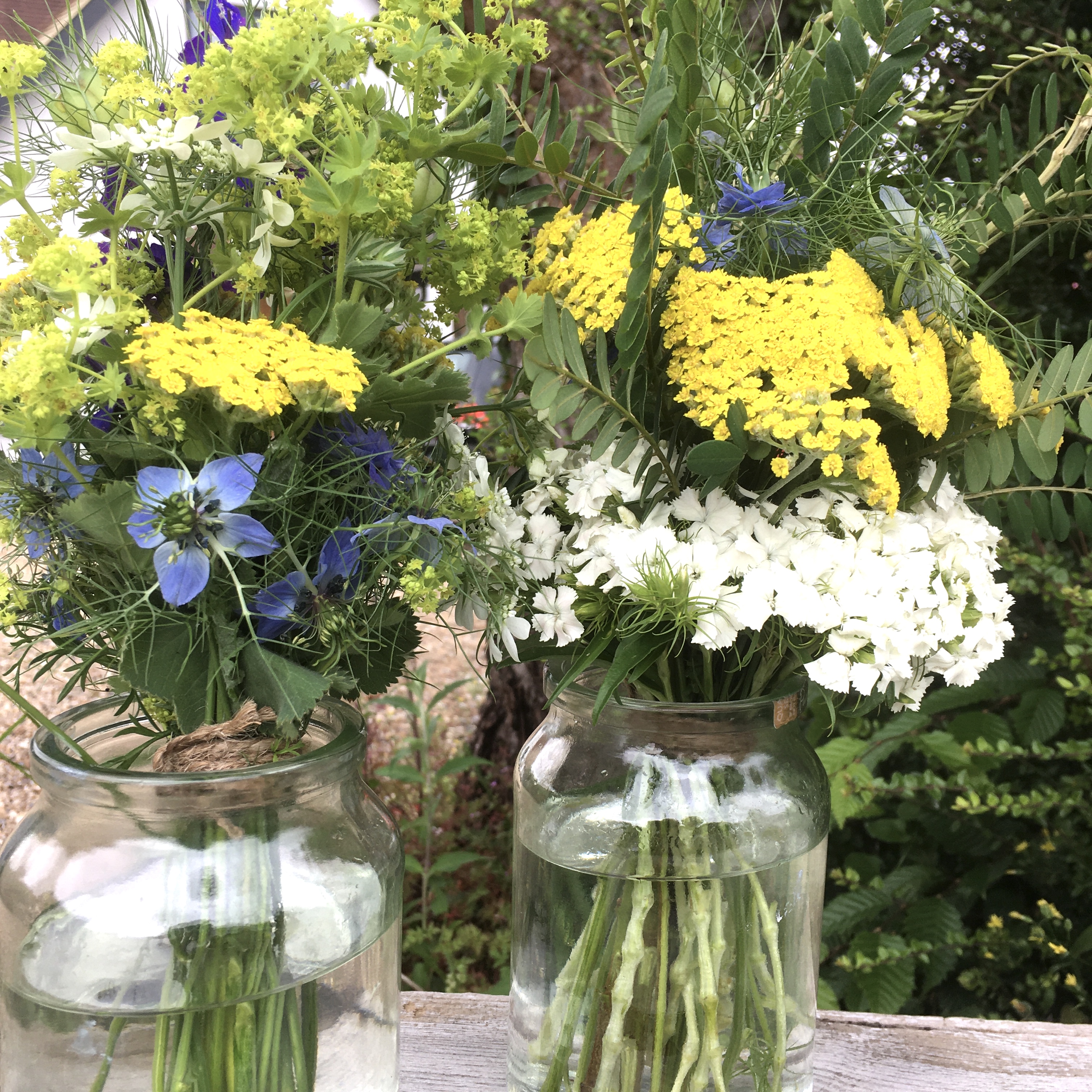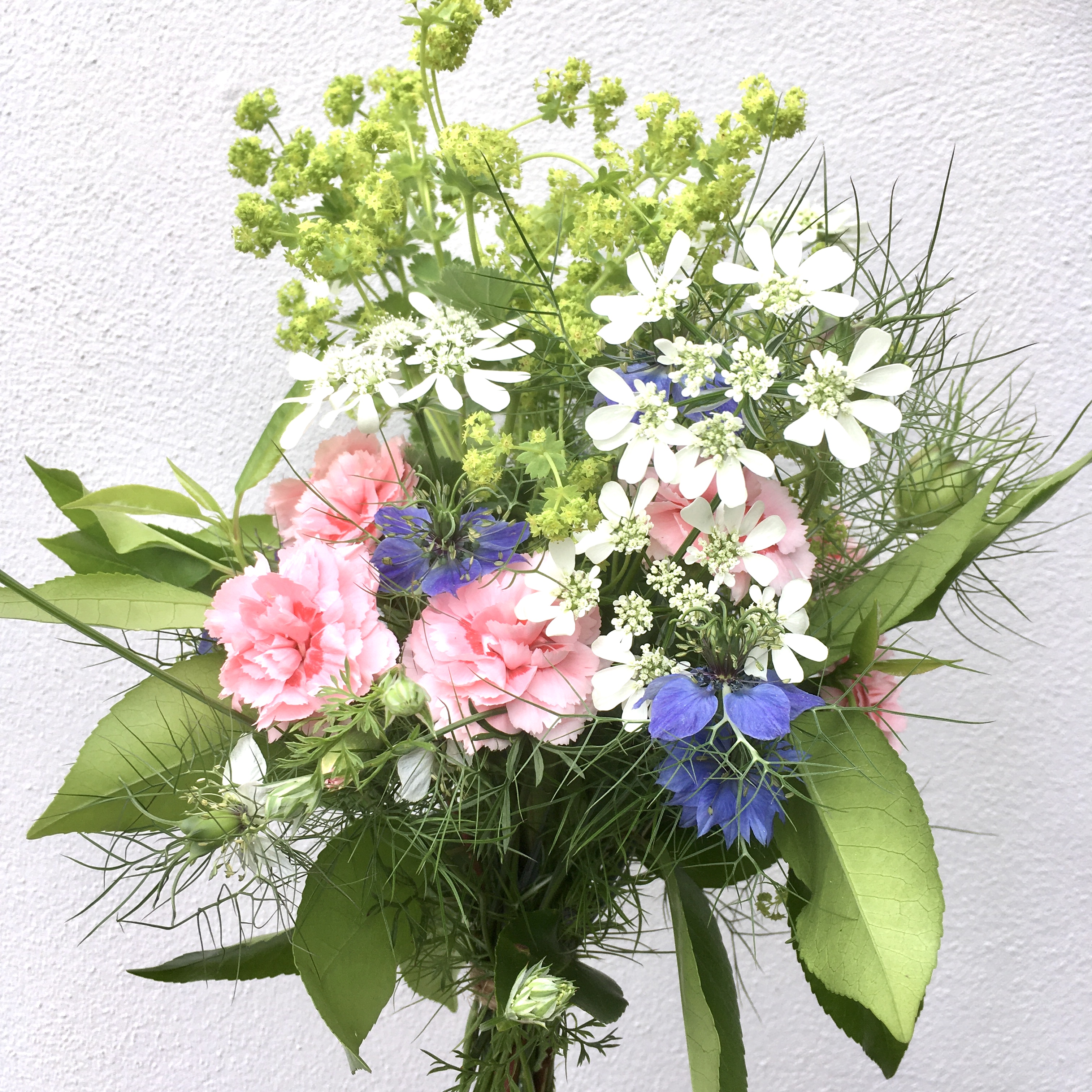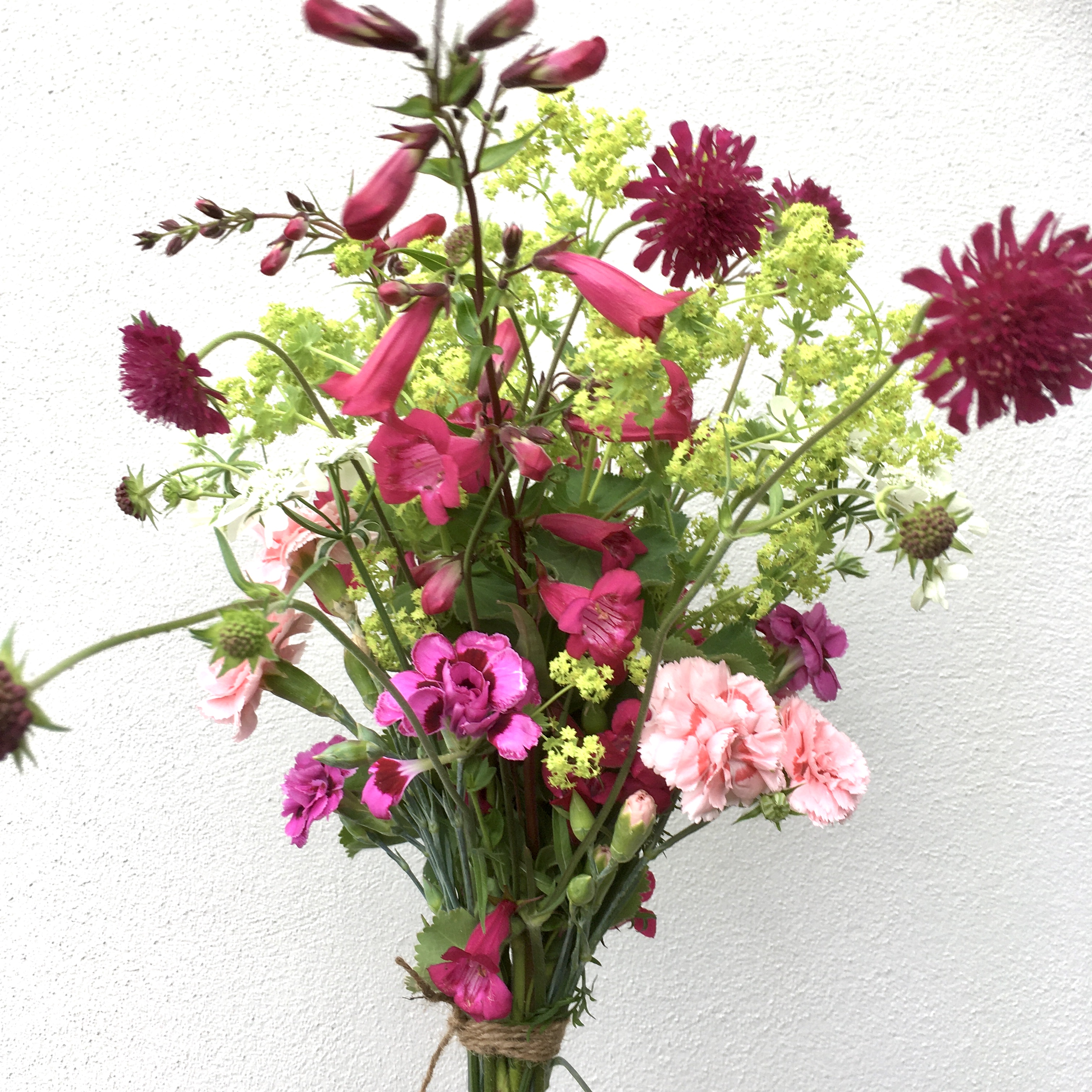 This Month's Musical Offering...Sun Salutation Soundtracks
Here are two tracks to enjoy as you're doing your Sun Salutations - the first one, by Michael Mandrell and Benjy Wertheimer has a slightly slower rhythm and the second one 'Surya Namaskar' by Drala has a more energising rhythm for when you want to pick up the pace a little. 10-15 minutes of Sun Salutations is a great way to start each day - moving the body through its range of movement, getting the blood pumping and encouraging deep breathing, and the repetitive rhythm and flow of the sequence encourages a meditative state of mind.
This Month's Video... Animal Magic
On a dull, damp day a little bit of animal cuteness is most welcome... here are some seriously sweet stoats to bring a little bit of light into your life...