Monday 13th February - Greetings from India
I'm feeling a little sad as I write this as my wonderful yoga retreat is finished. My lovely group of students, who made the week so full of friendship and fun, are on the plane home, and my fellow teacher and yoga buddy, Suzie, and I have moved down to the south of Goa for a week's holiday on our own.
We stayed at the same retreat centre as we did last year, right on the beach in Ashwem, Goa. We lived in beach huts, ate in the restaurant with our feet in the sand and went to sleep listening to the sound of the waves. We practised our yoga on a shaded open air deck - our morning classes built strength and stamina and the evening classes were an invitation to stretch and relax. Everyone's yoga practice progressed and the hot weather allowed the muscles to stretch a little more easily so we could go deeper into the poses than we might usually do.
We enjoyed trips to the market and Panjim, the capital of Goa, and explored the local area and its restaurants and shops. Cashmere scarves, beautiful jewellery and many, many sarongs were purchased and squeezed into luggage to take back home.
The adverts on TV in the U.K. advertise with the tag line "Unexpected India" and it certainly offered us plenty of surprises, some good and some not so good! In spite of these, India has a special magic that I love and will always be drawn to. The more time I spend here the more interested I am in the history and culture. I'll be sharing some new classes on the Thrive Yoga site about the philosophy of yoga soon so, if you're a member, keep an eye out for those. And if you're not a member but would like to do more yoga and find strength and ease in both body and mind, and learn more about the meaning behind the physical practice, then do click the Join Now button to subscribe.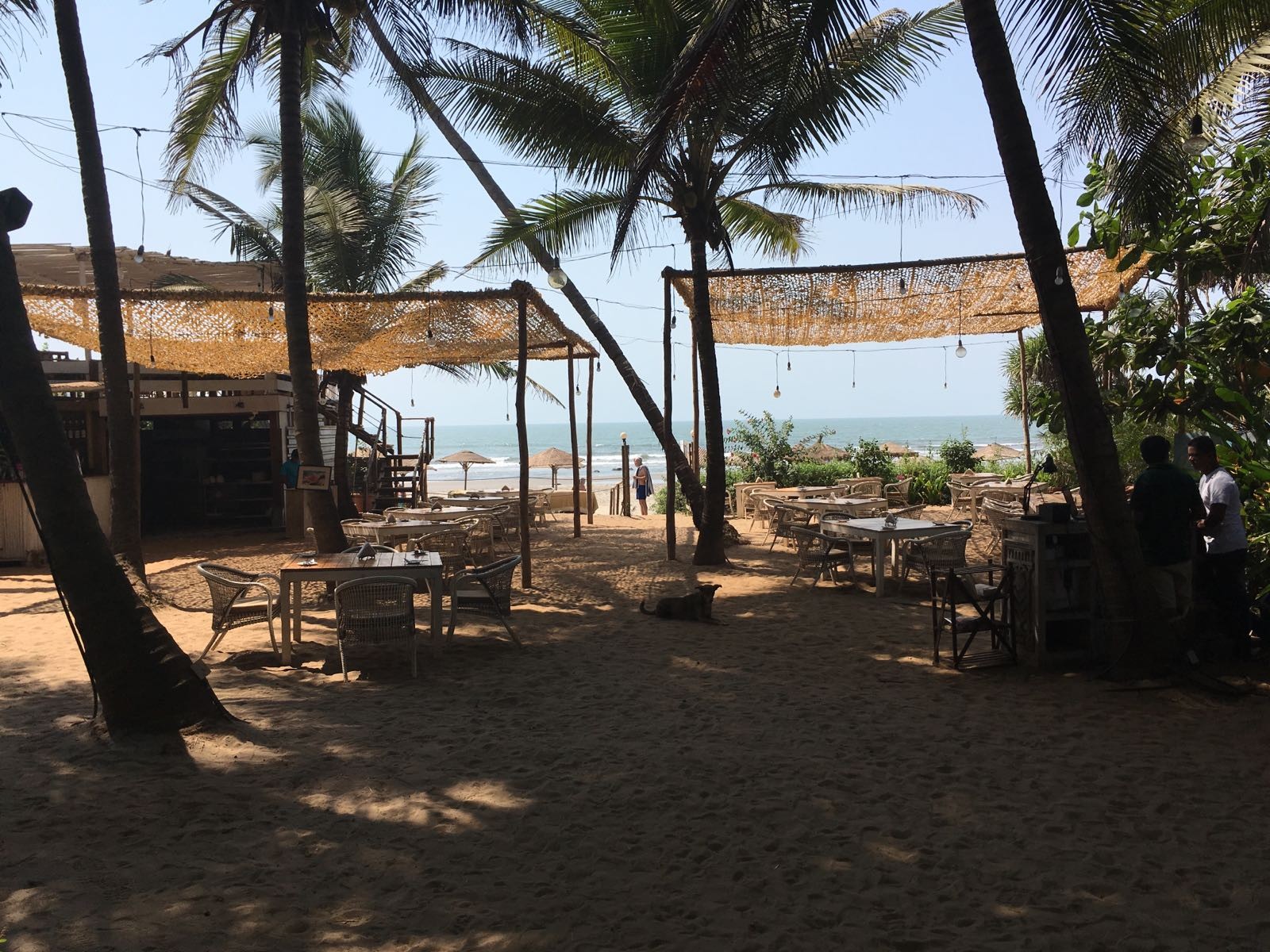 This Weeks Recipe... Apricot and Honey Seedy Oat Bars
I made these the day before I went to India to eat on the journey. Plane food is notoriously dubious and, even though I always choose the vegetarian option, I wasn't taking any chances that I might go hungry.
These are very nutritious and, with no preservatives or other nasties, make a healthy, filling snack.
This makes a small batch of about 8 squares but do double the measurements if you want to make a bigger batch.
You will need:
50g toasted flaked almonds (or use ground almonds)
60g unsalted butter
50g clear honey
Pinch of salt
50g golden caster sugar
Zest of half a lemon
100g porridge oats
50g dried apricots (chopped)
25g sultanas
25g pumpkin seeds
25g sunflower seeds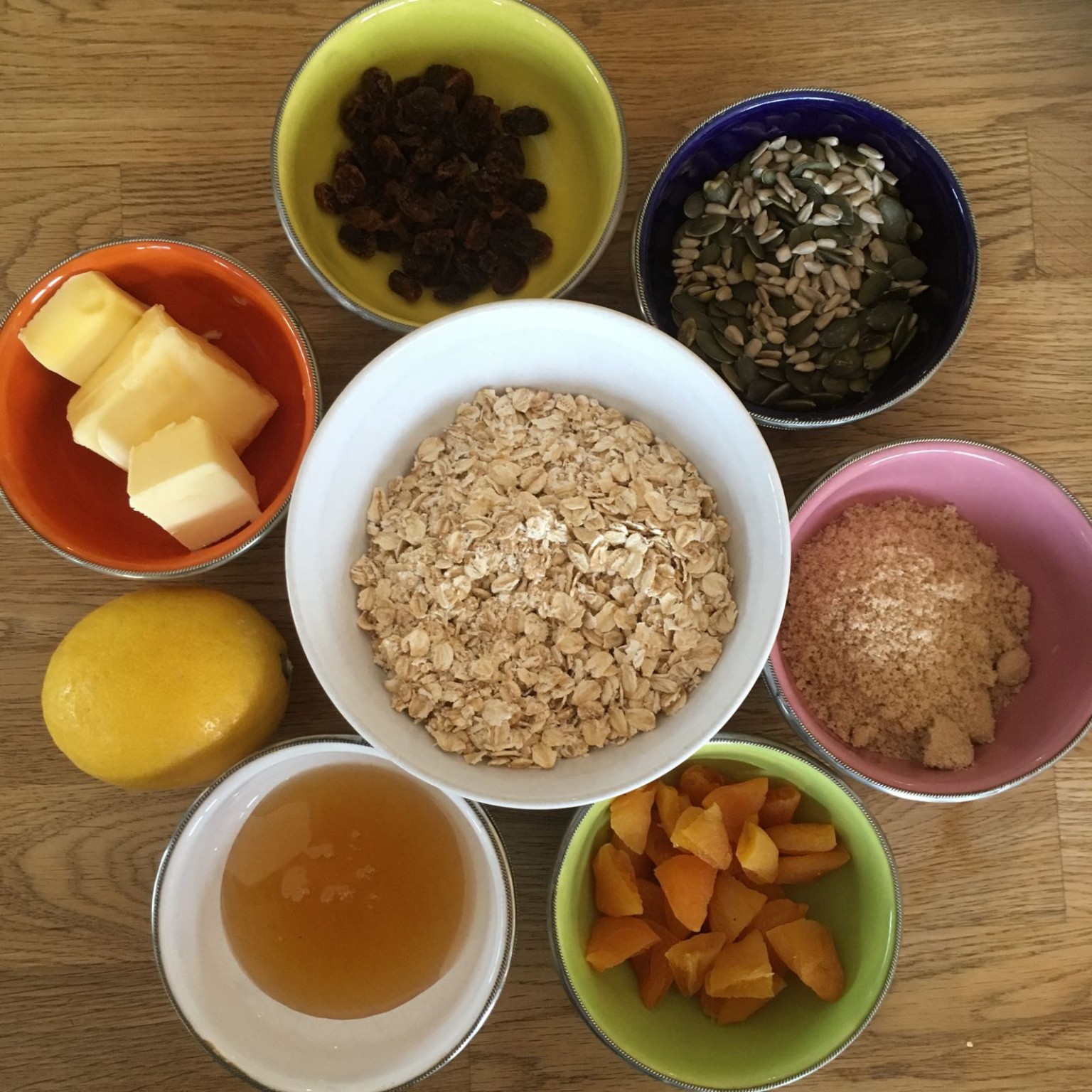 And here's how to make them:
Preheat the oven to 180 degrees C, gas mark 4.
Press a rectangle of baking parchment into a small, shallow, lightly greased baking tin.
Blend the flaked almonds in a food processor until finely ground.
Melt the butter in a saucepan with the honey, sugar, salt and lemon zest.
Stir in the porridge oats, almonds, apricots, sultanas, pumpkin and sunflower seeds and mix together well.
Spoon into a tin and press firmly down.
Bake for 20-25 minutes until golden.
Remove from the oven and leave to cool.
Cut into squares when still just warm to make it easier to cut without it crumbling.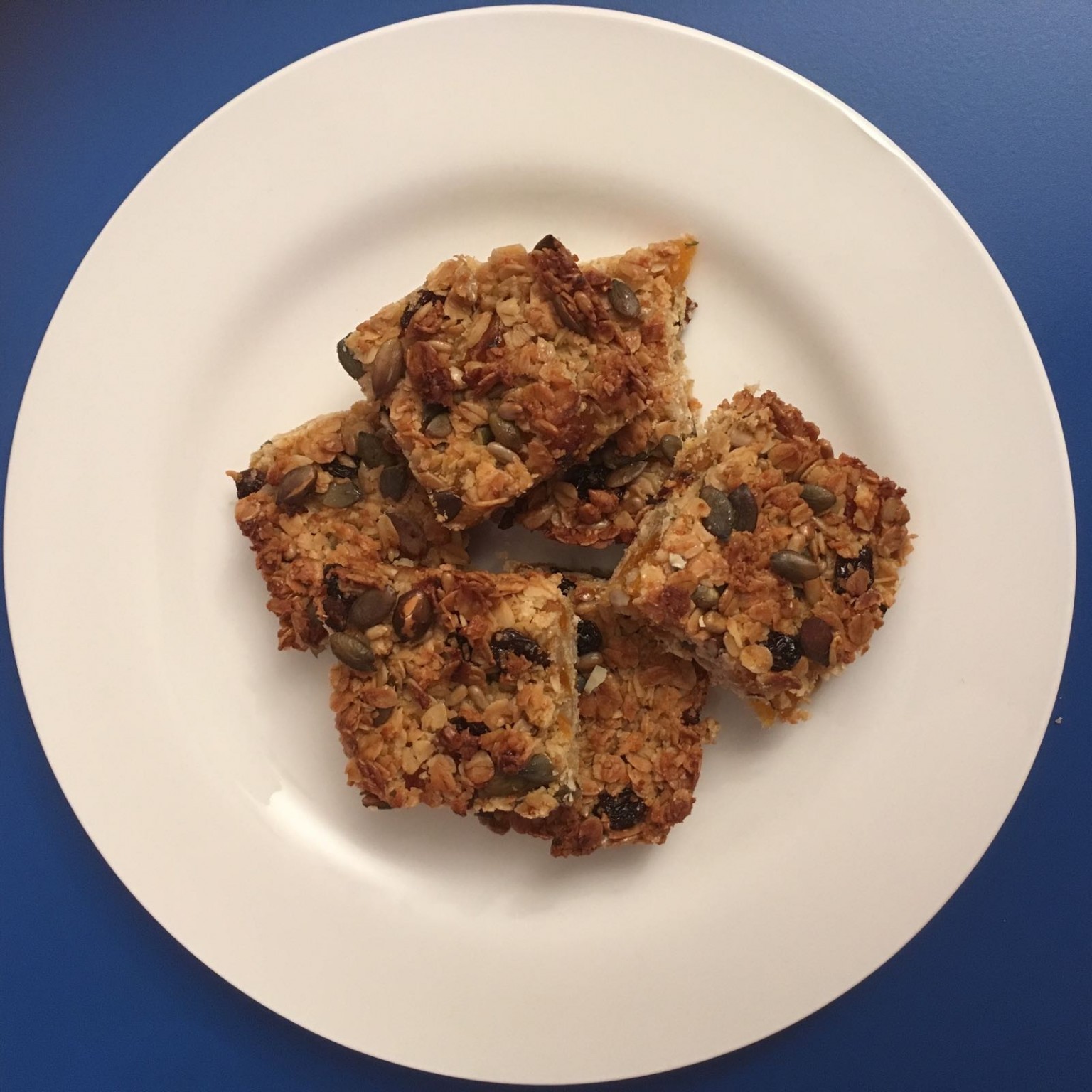 A Bit About ... Himalayan Singing Bowls
Everywhere you go in Goa you see Tibetan Singing Bowls for sale. Traditionally used in Himalayan culture for rituals and meditation, these metal bowls made of brass are now offered to us tourists as souvenirs and as accessories for our own meditation practice.
Each one is sold with a little padded hammer and some have a cushion to rest the bowl on. When hit gently with the hammer, each bowl resonates with its own unique note and has two harmonic overtones. You can, with practice, get your bowl to 'sing' by running the hammer around and around the lip of the bowl. As the friction increases it starts to produce a very distinct sound with a vibrational quality.
The bowls can help with meditation by giving the mind something to focus on. You follow the sound of the note as it widens outwards, focussing the attention on its lovely 'echoey' ringing - it's strangely hypnotic and relaxing! I've been reminded of how lovely it sounds and am inspired to take mine down from the shelf where it has sat for a long time, and use it in my classes to add another dimension to our meditation practice.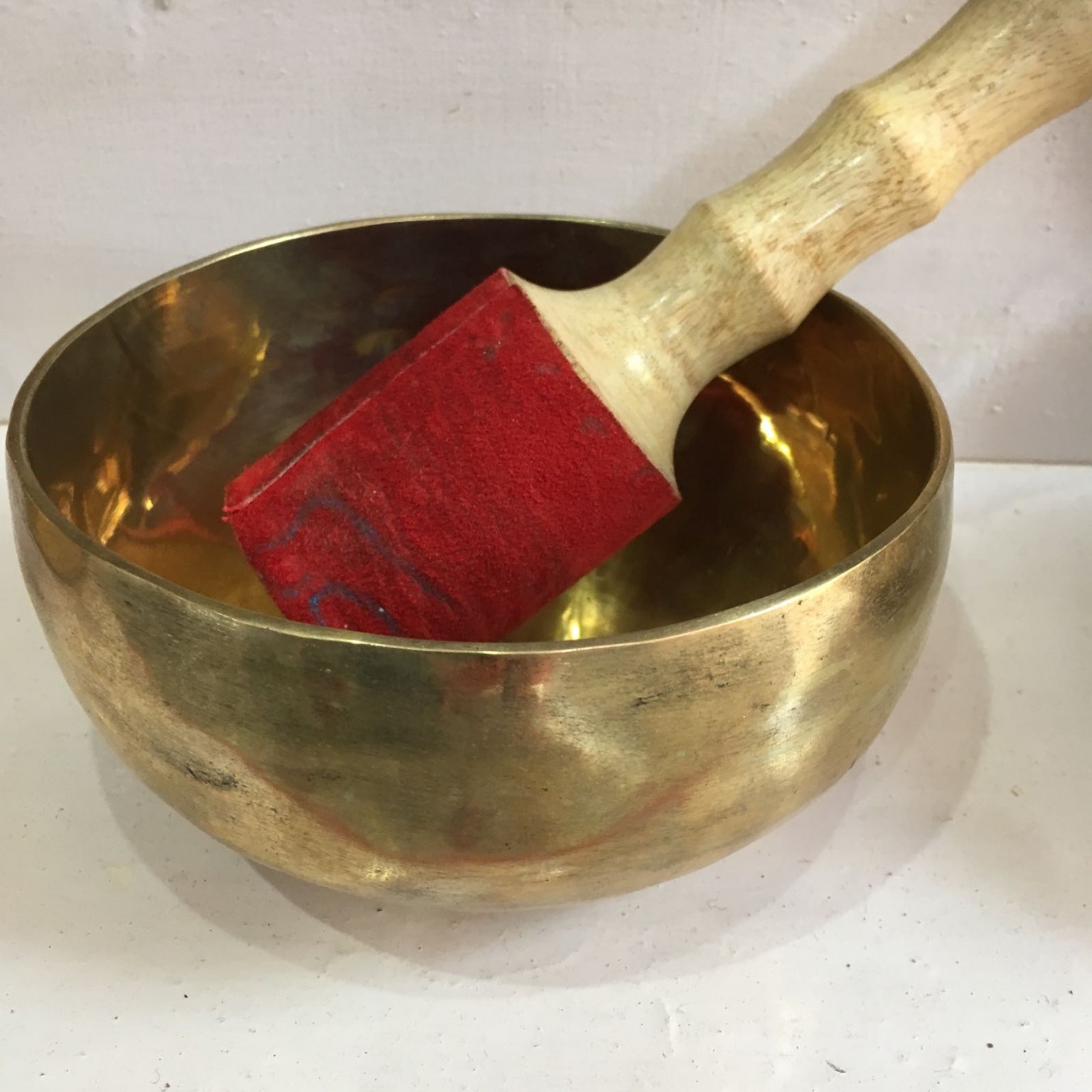 This Week's Advice from a... Sunset
The sunsets in Goa are glorious and I never tire of sitting on the beach watching the sun go down over the sea. I'm sharing this Advice from a... with you this week as it seems so appropriate: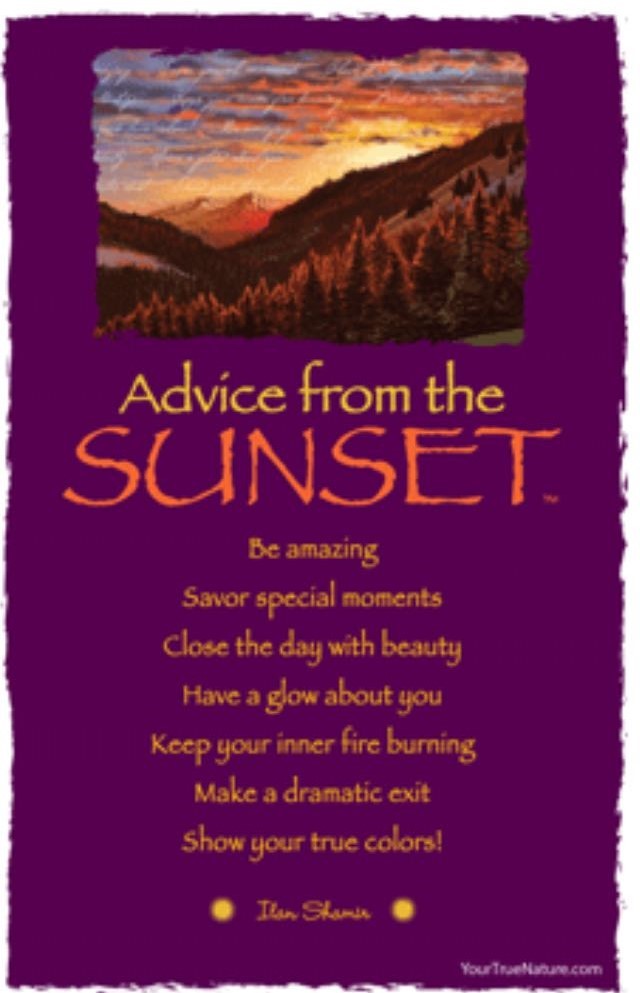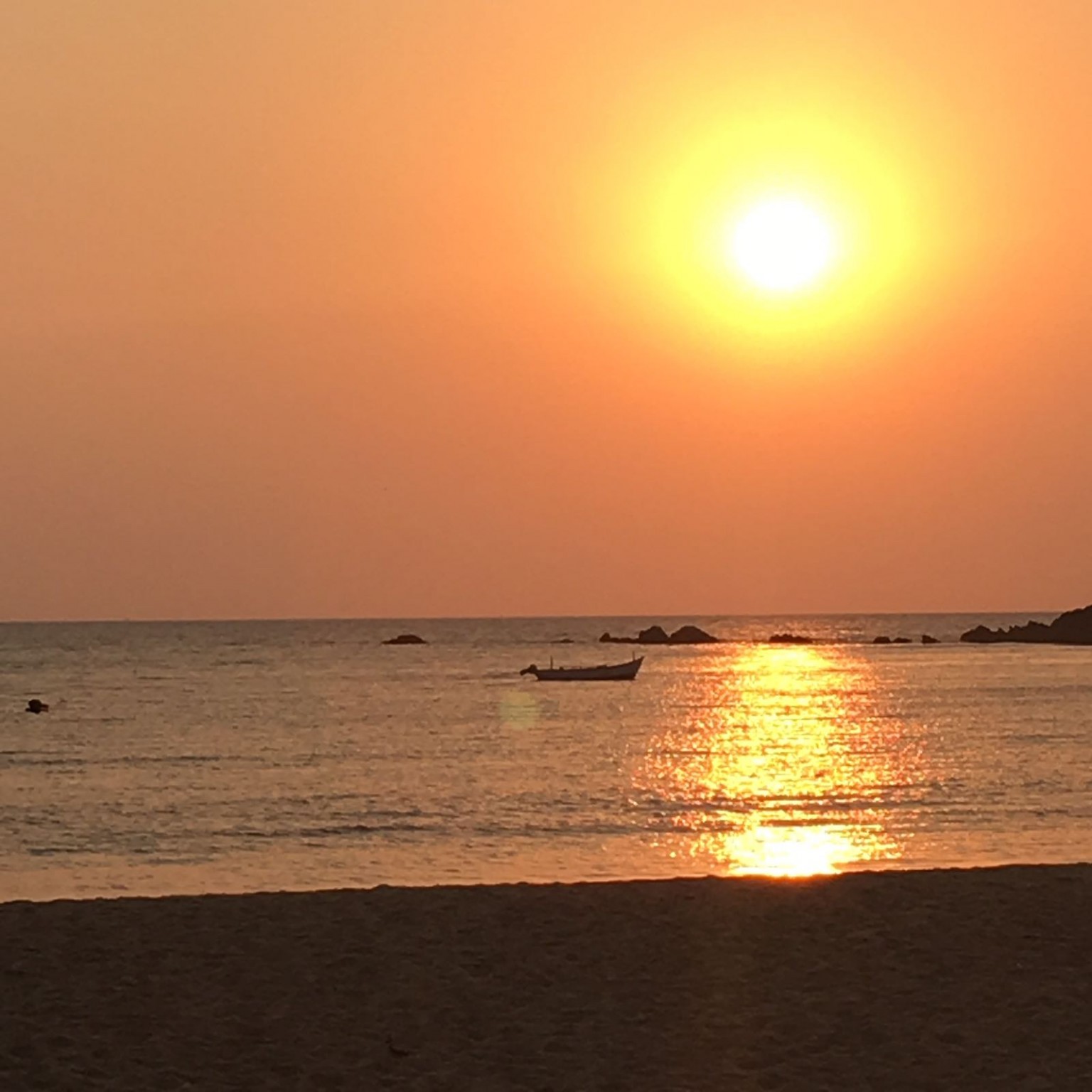 And finally, last week's class for Thrive Yoga members was a 12 minute dynamic Surya Namaskar flow to get the blood pumping and give you an all over stretch and strengthen. This week there's a special bundle of classes - a meditation, a breathing practice and the first in a series of Philosophy classes. Each month we'll look at an aspect of the 8 parts (or limbs) of yoga, of which the postures is just one. We'll start this month with a short introduction and work our way through. I hope they fill in some gaps in your knowledge about the vast subject of yoga and that you can use the teachings off the mat too - it's enlightening stuff - like life coaching the yoga way!
Until next week .... and thanks for reading. Namaste.