Monday 23rd September - Into the Blue
Class Notes - Exploring the Yamas - Part 2 Satya
Let's continue our journey through the Yamas, the 5 guidelines for living your life with freedom and ease...
In studying the Yamas we are invited to shine a light on the ways in which we are, and more importantly are not, aligned with living in the most harmonious way. Yoga master, BKS Iyengar said "The Yamas are the ethical disciplines that show us what must be done and what must be discarded. They are the golden keys to unlock the spiritual gates.
Last week we explored Ahimsa, the foundational principle of non-harming, and now we move on to the second of the Yamas, Satya. The translation of Satya is 'truth' and it asks us to think about how we can live our lives as honestly as possible. It means to have integrity, sincerity and good intentions. There are many ways we tell ourselves untruths, from little excuses to bigger lies, and very often we aren't even aware that we're telling them. So we shine the light and use the 8 Limbs to illuminate the way along the path.
In telling the truth to others, we should aim to cause the least harm possible - if speaking the truth will cause pain or suffering, then it may be best to remain silent. We must take care with our words and thoughts and consider them carefully. But being a yogi doesn't mean you have to always be passive and benign - Satya also means speaking your truth when you need to. Some of the yoga postures we practise regularly are the Warrior poses, which require us to be strong, determined and focused. Sometimes life demands these qualities of us too - we have to stand up for our Truth when there's something we strongly believe in.
We must practice with honesty when we're on the yoga mat too, honouring where we might push past our limitations into strain or pain. We must also look at where we might duck out of the practice, either physically being lazy or mentally when we allow the thoughts to wander, escaping from where we need to be.
So can you explore living your life, on and off the mat, with Satya? It might be uncomfortable sometimes when it dawns on us where we have been less than truthful but that's the point - we clearing away the things that are not in alignment with living life well and illuminating the things that are.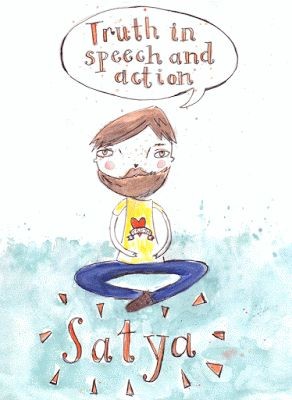 I'm going to speak my truth now and stand up for what I believe in - I want a world where us humans don't destroy and take everything for our own needs but live in harmony with our home, the planet, and all the other beings we share it with. It might not happen in my lifetime but I want to do everything I can to safeguard it for my children...
A Bit About... A Life With Less Plastic
We all know that we need to live in a more environmentally friendly way and many of us are already trying to alter the way in which we buy, use and dispose of plastic, but we need to do more. In the wake of the hugely popular Blue Planet 2 which opened many people's eyes to the extent that mankind is destroying the oceans, the BBC will be airing a new programme called 'Drowning in Plastic'. On Monday 1st October at 8.30pm on BBC1, scientist and natural history presenter Liz Bonnin, will take us around the world to look at just some of the worst polluted 'hot-spots' and she'll speak to scientists who are trying to find ways to deal with this enormous problem. I urge you to watch it - it will help you see the reality and the enormity of this issue and might inspire you to change some less-than-helpful habits that you might have!
The decisions that we make as consumers really matter so never think that what you do isn't important. I'm sure you know many ways that you can produce less waste - refusing plastic cups and cutlery in cafes and coffee shops and carrying a reusable cup and spoon with you, bringing your own bag with you when you go shopping, choosing products that have less packaging - all really easy ways we can make a difference. But we need to do more... which leads me to tell you about Surrey's first plastic free shop...
If you live locally to me in the environs of Bookham in Surrey, you probably already know Greenwise, the greengrocer/wholefoods retailer/cafe in the parade of shops on Cobham Road, Fetcham. Recently there has been addition to the shop - a concession known as 'Fetchem From The Cupboard' - which is a zero waste shop. Loose foodstuffs such as grains, nuts and seeds, laundry and cleaning products and many other eco-friendly items are displayed in dispensers and you bring your own containers with you, weigh them, fill them with your required products, weigh them again and pay at the till. It's a big step for Tracey, the founder, and a big step for us as consumers to reduce our waste and reuse and recycle what we already have. By supporting this initiative you will, with your buying power, send a message to other shops and manufacturers and your friends and family that they need to get on board with zero waste too.
So please plan a trip to Greenwise soon, bring your empty containers with you (or you can buy some there to start you off) and Tracey will help you fill and weigh them and show you how it all works. You can follow her on Facebook and Instagram by searching for 'fetchemfromthecupboard' (fetchem has two e's).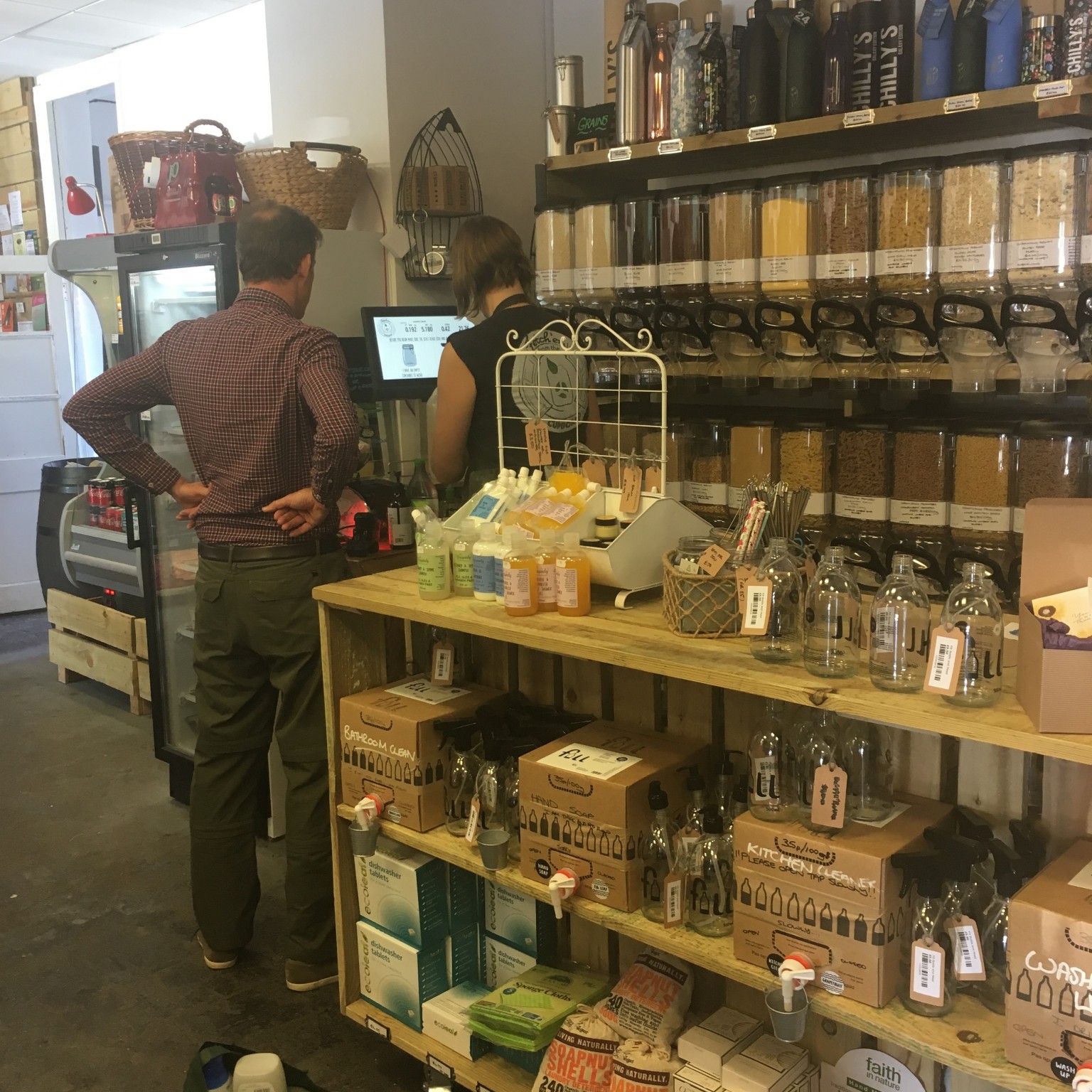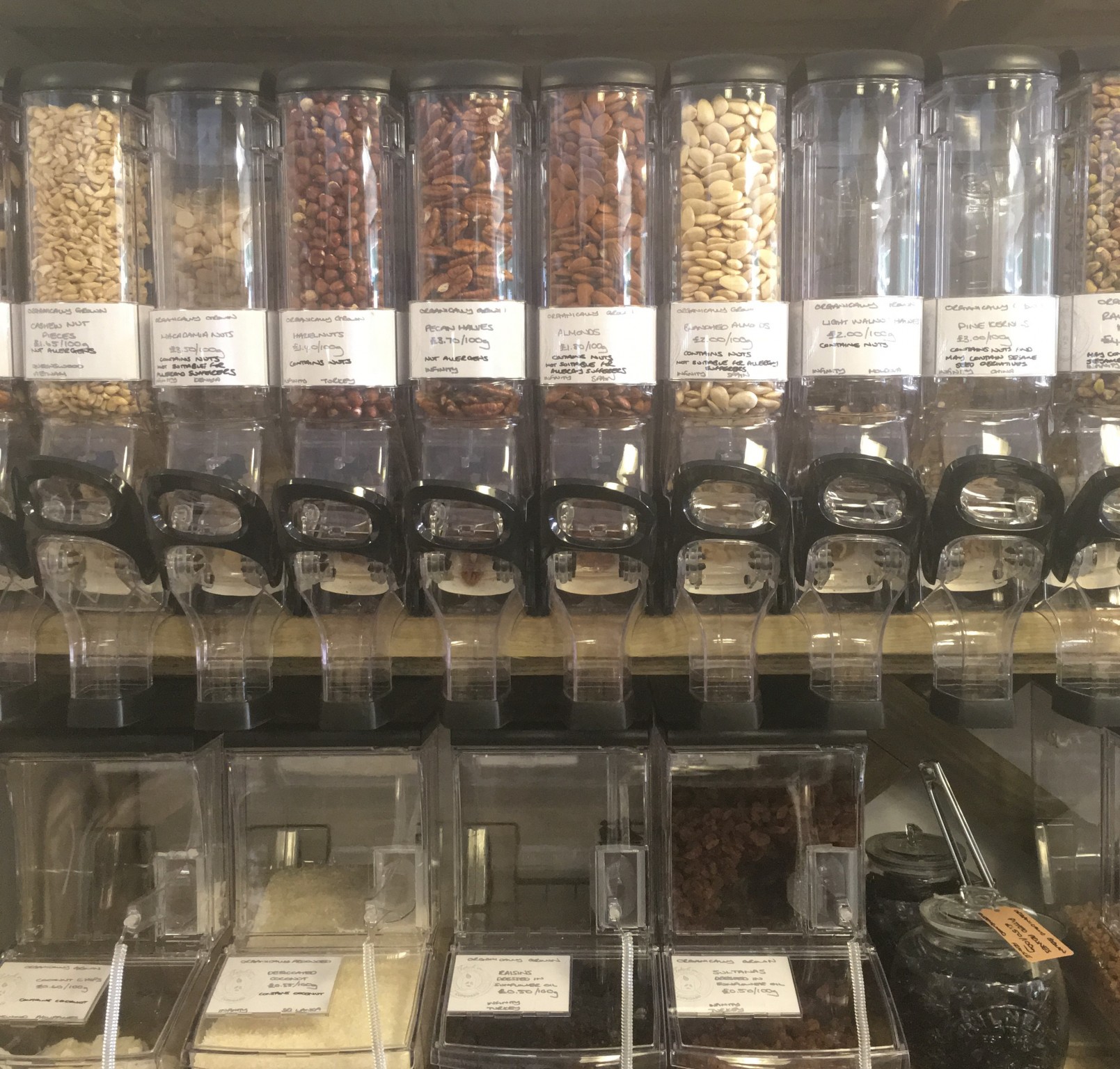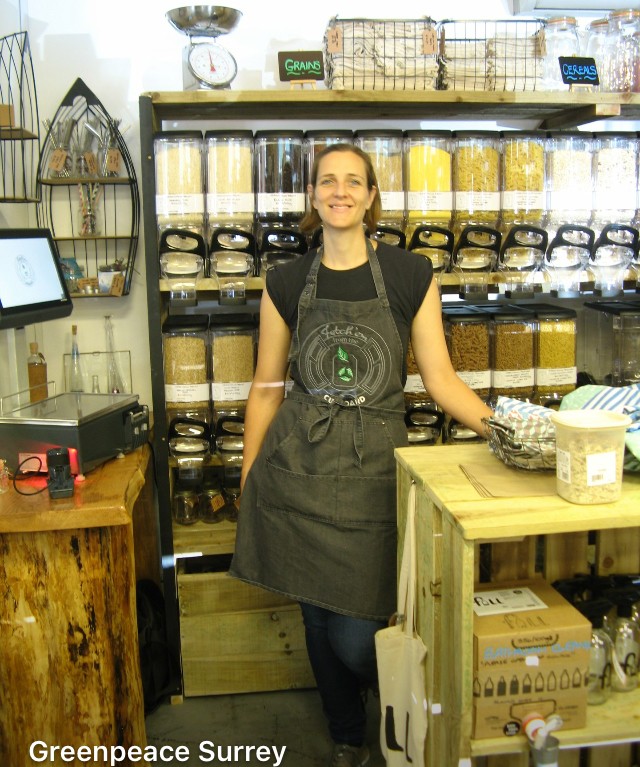 This Week's Recipe... Ginger, Honey and Lemon Vegetables With Labneh and Grains
One of the best ways to be kind to the Earth is to eat less meat. It costs so much in land-use, food, water and transport to keep an animal as opposed to using the land to grow plants. And vegetables are so much healthier for you too. The demand for meat is going down in this country but in places such as China it is, unfortunately, going up and the Earth will pay the heavy price for this. This supper recipe, which comes from the free weekly Waitrose paper, will give you your '5 a day' in one portion and will cost less to produce both in respect to your wallet and to the planet.
Serves 4
Preparation: 20 minutes plus draining time
Cooking: 50-60 minutes
You will need:
A small pot of natural yoghurt
1 butternut squash
2 red onions
3 tablespoons of olive oil
5cm ginger, peeled and finely chopped
2 tablespoons clear honey
3 lemons (finely grated zest of 2, and the juice of 3)
2 peppers (1 red and 1 orange)
250g pack of chestnut mushrooms
a handful of mint
a handful of parsley
And here's how to make it:
Line a sieve with muslin and place over a large bowl. Mix the yoghurt with half a teaspoon of sale and pour into the prepared sieve. Put in the fridge overnight to drain and make labneh. I skipped this stage as I was using soya yoghurt and I don't think it separates in the same way, and just used it in it's original consistency. You could too and you'd just end up with a runnier yoghurt dip.
Heat the oven to 190 degrees C, gas mark 5.
Peel the squash and cut into chunks, cut the onions into thick wedges and put them in a large roasting tin.
Mix together the oil, ginger, honey, lemon zest and juice and a little seasoning and pour over the vegetables. Mix well to coat, then roast for 30 minutes.
Meanwhile, halve and de-seed the peppers and cut into chunks and halve any large mushrooms. Add these to the roasting tin, stirring well and return to the oven for a further 20-30 minutes until all the vegetables are tender.
Chop the herbs finely and stir into the yoghurt with a little pepper.
Divide the vegetables between four plates, add a dollop of the yoghurt to each and sprinkle with remaining herbs.
Serve with couscous or other grain, and a salad for a yummy and healthy supper.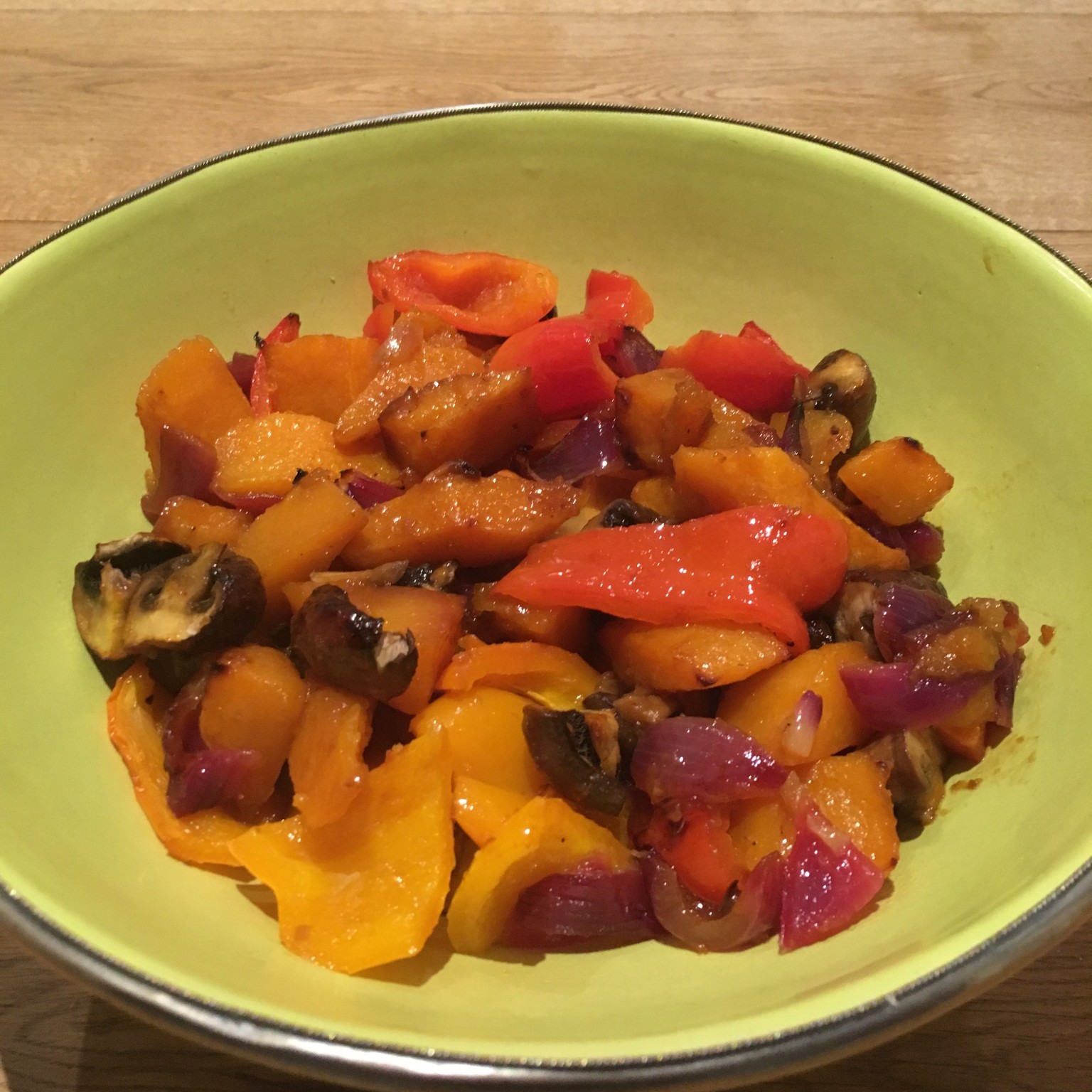 This Week's Musical Offering...
The Blue Planet by Hans Zimmer from BBC's Blue Planet 2. Can you pause in your busy day for just 3 minutes. Close your eyes, sit up, roll your shoulders back, place your right hand over your heart, breathe deeply and smoothly. Just sit and breathe and listen for 3 minutes and soak this up. Let yourself relax and absorb the music and the stillness of your body. That's all there is to do. Notice how you feel afterwards and enjoy the feeling of peaceful mind, peaceful body and peaceful spirit.
This Week's Videos...
I have two inspiring videos for you this week. The first is the trailer for the Ocean Film Festival, a collection of short films about the oceans and the people who swim, dive, surf, sail and row in them. The screening aims to bring awareness to the negative impact that humans are having on the marine world but it also shows us the more positive side of people too - their courage, adventurous spirits and enthusiasm for life itself. The Ocean Film Festival is coming to Dorking Halls on 10th October so if you're local and all things about the ocean float your boat (ha, ha I'm so funny!) get yourself down there for an inspiring, entertaining and educational evening out.
This next trailer is for a film called BLUE, an excerpt of which is included in the programme of the Ocean Film Festival. Here's the blurb: "BLUE is the story our generation need to hear. The industrialisation that has occurred in the oceans over the last century mirrors the events that triggered mass extinctions on land. Industrial scale fishing, habitat destruction, species loss and pollution have placed the ocean in peril. The very nature of the sea is being irretrievably altered. BLUE is a provocative journey into the ocean realm, witnessing this critical moment in time when the marine world is on a precipice." So please watch this and consider...
So, can I ask you - what are YOU going to do to help redress the balance? These are your oceans. Your children's and your grandchildren's too. Will you step up and speak your Truth?
Finally, I'll leave you with an impactful photo from this year's Wildlife Photographer of the Year exhibition that sums it all up really :-(